insulating and foaming
A common application in every workshop is insulating or rather separating positive or negative moulds and the subsequent fabrication of a new fitting. For this working steps, BEIL offers the optimal separating agents and PUR foam systems.
Insulating / Separating
In addition to impeccable moulding, the basic requirement for working successfully with polyurethane foam systems is the reliable separation between mould and model as well as between mould and workpiece. Next to mechanical aids or sprays, liquid separating agents produced from various raw materials are used for this purpose. Depending on the type of application they provide optimal work results. Particularly worthy of mention in this respect is the separating agent 65/98, an unrivalled silicone separating agent, suitable for insulating even humid plaster casts.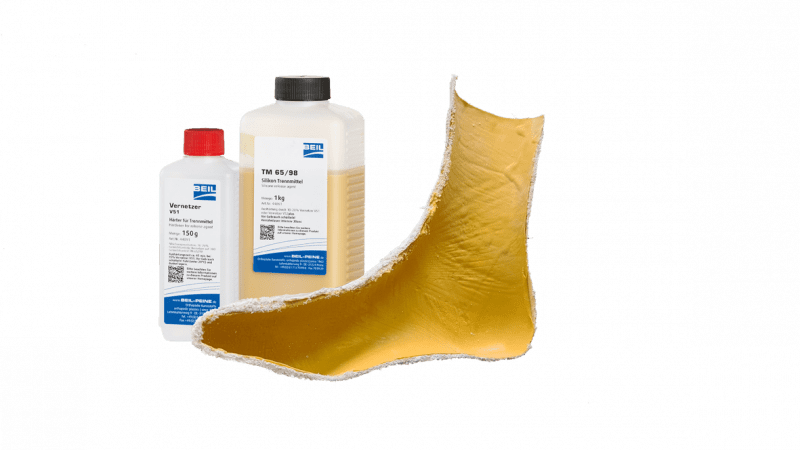 Foaming
Fittings made of foamed polyurethane (PUR) are very common in the orthopaedic workshop. This method provides good results, can be rapidly and affordably implemented and the fittings are ideally prepared for further processing.
Various systems are the basis for a wide range of applications for light to heavy components, rigid or flexible and cover all frequent requirements.
PUR rigid foam
The polyurethane (PUR) liquide foam systems of BEIL are user-friendly and made of high quality. Several product lines, each with different settings and formulations, offer all possibilities required in the orthopaedic workshop. Our PUR rigid foam systems guarantee a consistent and fine-pored quality at the highest level. Rigid foams are mainly used for models, leg and foot lasts as well as short leg compensation.
Pur flexible foams
BEIL PUR flexible foams ASTI-TECH and ASTI-S are used for the fabrication of custom-made insoles, forefoot and toe joint replacement as well as for seating shells, orthopaedic seat cushions and other paddings.
All foams have an open-cell structure and are offered with different characteristics and appropriate additives to fabricate custom-made fittings.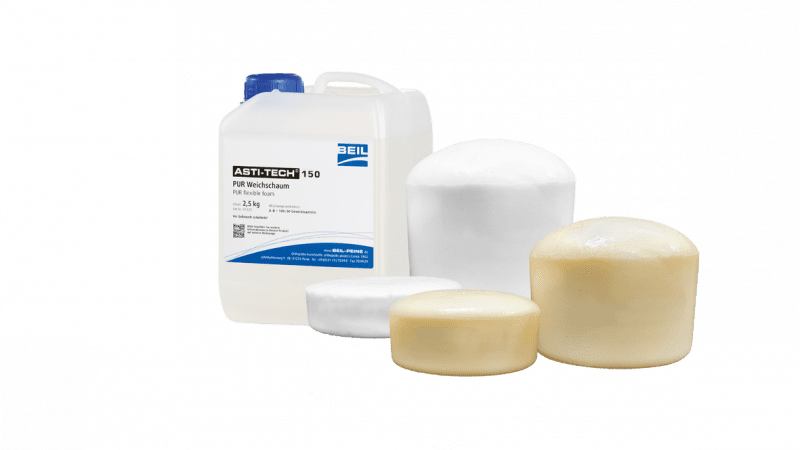 Filling and Moulding
BKF putties have been optimised for the use in orthopaedics. They allow subsequent modification of moulds made of PUR foams and other materials such as wood, gypsumen moulding compounds.
Particularly suitable for PUR rigid foam moulds is our partially flexible polyester putty BKF Putty C-PLUS.

We are happy to take some time for you
Our Technical Service will be pleased to answer your questions and offers you advice and support.
Please contact us any time at:
+49 5171 70990
IMPORTANT INFORMATION ABOUT REGISTRATION, EVALUATION, AUTHORISATION AND RESTRICTION OF CHEMICALS
(REACH) REGULATION, ANNEX XVII, 74.
USE OF DIISOCYANATES IN THE EU
REGULATION (EU) 2020/1149
As from 24.02.2022, you will find on our entire PUR foam system containers component B (product containing diisocyanates) the following note:
"As from 24th August 2023, the handling/ processing of diisocyanates is not allowed without a certified training."
Employers or self-employed have the duty to ensure before 24th August 2023 that a successful (certified) training course was absolved before using products that contain diisocyanates. This certificate is valid for 5 years and must then be renewed.
At present, we establish all information and requirements and prepare it for you. We will continue to provide you with up-to-date information, so that you can work legally compliant and secure as usual with our proved PUR foam systems.
After final regulations are available, we will inform you about possibilities as well as methods for those trainings.
Please contact us for any questions on this issue.
We would be pleased to assist you.