VISIT US AT THE OST COLOGNE
IN OCTOBRE 2022
Finally, the 6th ORTHOPÄDIE SCHUH TECHNIK trade fair will take place again in Cologne and, as in previous years, we are presenting new product developments in the field of or thopaedic shoe technology. We will keep you informed about all products from the application areas laminating, separating and foaming as well as acrylic sheets and pre-cutted sole.
Are you also there? We look forward to seeing you in hall 02.2, booth A-019!

BKF ACRYLIC SHEETS & PRE-CUTTED SOLES
Thermoplastic sheets have become indispensable for the daily work in orthopaedics. A speciality is the BKF acrylic sheets made by BEIL with different fibres and
special acrylic resins. They are suitable for many applications such as sole stiffeners, supporting tongues in case of forefoot amputation, suppor ting fittings, smaller or thoses and more.
Thanks to our new sheet type Carbon Twill H6 DS, we can offer you a thin but at the same time strong carbon acrylic sheet.
Convince yourself!
+49 5171 70990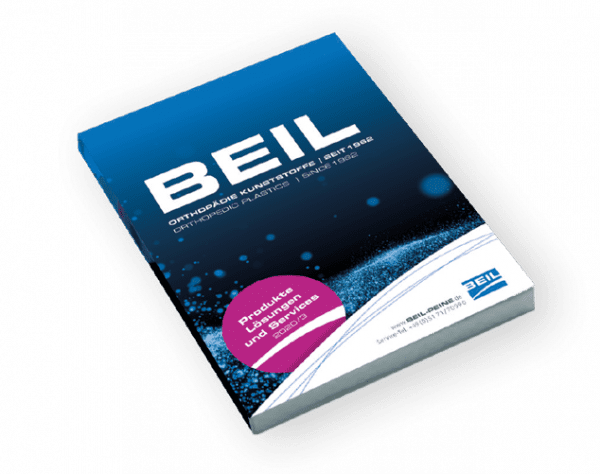 Current Catalogue
Take a look on our current offer with many new products
We are here for you for 60 years
For more than 60 years, BEIL produces plastics for the orthopaedic workshop. 17 professionals work with great skills and deep knowledge on development, advancement, procurement, production, distribution and shipment. A computerised production as well as highest quality and safety requirements ensure our high standards.

Our brands stand for quality
BEIL brands and products are well known and proven in Germany and abroad. They are optimally tailored to the needs and wants of our customers in the workshop and offer maximum quality. Professional solutions on customised materials as well as practise-oriented applications and processing techniques are being continually developed together with orthopaedic technicians and orthopaedic shoe technicians and complement the product range. The close, cooperative relationships we share with our sales partners and users in the workshop pursues the goal: Perfect work results in the workshop with Orthopaedic Plastics from BEIL.
Always close to our customer
We at BEIL feel it is our obligation to support the customer also in using the products, today more than ever before; particularly when it comes to safety-related matters during processing. Our Technical Service is always at your disposal.
+49 5171 70990